Vero Tours S.A.R.L.
Baco Djikoroni ACI, Bamako/Mali
Tel.: +223 78683275 / 73180186
Reg.-Nr.: 11-023/VS/ API-MALI-GU
41159195001049T
info@vero-westafrika.com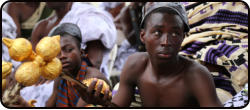 Burkina Faso - Benin - Togo
Mud Palaces and Voodoo Ceremonies
Get close to West Africa's hidden secrets:
Colourful Ouagadougou and colonial-style
Bobo Dioulasso. Mud palaces and tribal
culture of the Lobi, Somba and Kassena
peoples. Breathtaking rock formations near
Banfora. Elephant and lion viewing at
Pendjari and Nazinga. History of slavery in
Abomey and Ouidah. Stilt villages, voodoo
ceremonies and fetish markets ...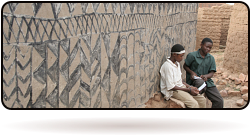 Benin - Togo - Ghana Coast
Voodoo, Slavery and Paradise Beaches
Travel along the Atlantic coast of three
fascinating countries, enjoying palm-fringed
beaches, quaint lagoons, pirogue trips to the
stilt villages of Ganvié and Nzulezo, voodoo
rituals and fetish markets. Trek Togo's
coastal mountains and get close to rare
Mona monkeys. And see the frightful
dungeons of well-preserved slave castles -
oddly contrasted by the serene beauty of our
nearby beach resorts...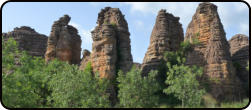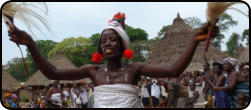 Sierra Leone - Guinea
Coast and Mountain Nature Tour
Travel to rarely visited beauty spots! Start
your adventure trip after a day in Sierra
Leone's laid-back capital of Freetown. Get
close to endangered primates at Tacugarna
and Tiway Island, stroll along stunning
beaches and find yourself trekking the rolling
green Fouta Djalon mountains of Guinea,
famous for their jungle canons, ponds and
waterfalls (moderate hiking tours). Explore
local Fula culture and handicraft before
winding down at the secluded beach resort of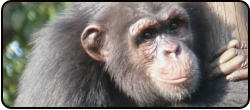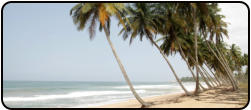 Ghana - Togo - Benin
Tribal Festivals, Voodoo Magic
Visit the bustling capitals of Accra and Lomé.
Marvel at the historical palace of Abomey,
Tamberma mud castles and coastal slave
forts. Experience authentic fetish markets, a
fire dance and a Voodoo ceremony, only to
be topped by the Akwasidae Festival at the
Royal Court of the Ashanti King. Or the
canopy walk in the rain forest of Kakum
National Park...
Burkina Faso - Côte d'Ivoire
Ouagadougou to Abidjan
Experience the diversity of West Africa: Mud
castles, stilt villages, vine brigdes, fetish cults
and mask dance contrasted by atmospheric
cities - Sahelian-style Ouagadougou in ochre
and red, Abidjan with glittery skylines and
oversized, purpose-built Yamoussoukro with
its breathtaking basilica. Be awed by natural
wonders like rock formations, waterfalls,
pristine beaches and first-class nature
reserves, home to elephants, hippos and
chimpanzees...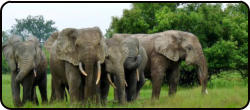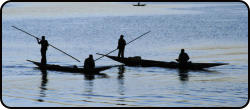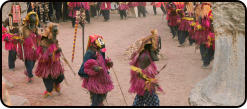 Ghana - Burkina Faso
Accra to Ouagadougou
Travel the ancient trading routes and see the
landscape change from lush to dry. Go for a
canopy walk in Kakum forest, a boat trip on
the Volta River, a shore walk at Lake
Bosumtwi or an elephant safari in Mole
National Park. Be amazed by decorated
houses, ancient mud-and-stick mosques,
coastal slave forts and the capital cities of
present and past: bustling Accra, colonial-
style Bobo and laid-back, colourful
Ouagadougou....
Senegal - Gambia
Lands between the Rivers
Round trip through Senegal and Gambia.
Southern Mali
Niger, Djenné and Land of the Dogon
Let us show you the classical highlights in
the country we call our home: Bamako's
exotic markets, handicraft stalls and
museums, colonial Ségou, the fluvial port of
Mopti, Dogon Country with picturesque
villages, shrines and mask dances, Djenné's
famous mosque, market and mud
architecture, the flooded plains of the Niger
inland delta, best experienced from a
traditional pinasse boat...




(Ask for offer. Travel warnings in place for
most nationals.)
(Itinerary under preparation).
Burkina Faso
West Africa's Best-kept Secret
Explore the colourful cities of Ouagadougou
and Bobo Dioulasso - thriving with music,
arts and handicraft. Marvel at breathtaking
rock formations, wetlands and waterfalls, or
the tribal culture of the Lobi, Kassena and
Dagara people. View elephants at Nazinga
Ranch, spot hippos, birds and sacred
crocodiles. And be soothed by the wide
horisons of the open savanna landscape,
home to friendly, smiling people...







Próximamente disponible
en Español